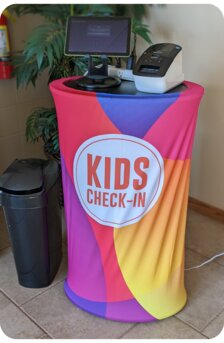 Check-In Process
Prior to your child participating in our nursery or Kids' Crew program, you will need to first visit the Check-In kiosk positioned in our lobby (pictured to the left). This check-in kiosk is located on the northwest corner of our lobby, just outside our sanctuary doors.
When you arrive at the check-in kiosk, type in the name of your child. If you are new to St. Paul, you will need to select 'create user,' and complete the short form to get them registered. After you have found your child in the database, you will click on their name and select 'check-in.' The printer to the right of the kiosk will print a name tag for your child to wear. We ask that you would put this tag on the back of their shirt, just below the neck. Keep ahold of the slip of paper that you will remove from this nametag, as it has a matching code that will help to identify you as the parent of your child at pick-up.
Check-Out Process
After your chosen service, simply return to their nursery or children's ministry to pick up your child. When you arrive, show the slip of paper which had previously been attached to the name tag your child is wearing. If the code matches your paper, you will be allowed to check-out your child for the day.
Infants & Toddlers
We have a paid nursery attendant available for both of our services for infants and toddlers. Simply follow the check-in process listed above, and bring your children prior to your preferred service. Return for the check-out process listed above when you are prepared to leave.
Kids' Crew (K-Grade 4)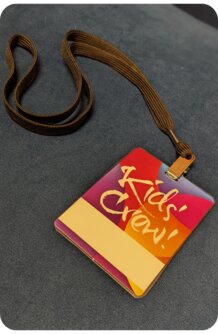 During our second service (11:00AM), we have a special program that we offer for children in Kindergarten through Grade 4. Prior to this service, please follow the check-in process listed above, and then find a seat in our sanctuary. Your children will begin with you, as we value having families worship together, but prior to the message children will be released to head to the children's ministry area with our volunteers.
You can easily identify our volunteers by their specialized 'Kids' Crew' badges, like the one pictured on the right. The only way someone could earn one of these volunteer badges is if they have completed thorough background checks and training, so you can rest assured that anyone with one of these badges is safe to send your child with when we instruct them to leave during the service.
Following the service, you can find the Children's Ministry area on the West side of our building, down the main hallway and on the right. Follow the check-out procedure above, and you can be on your way!