DAVID MULLENS
Pastor
(812) 332-4191
David is a native of Kokomo, Indiana. He has been in pastoral ministry for over twenty years. David received a bachelor's degree in computer technology from IUPUI, a Master's of Divinity from Asbury Theological Seminary and a Doctorate in Spiritual Formation from Asbury Theological Seminary.
David has been married to Delora for over twenty-five years and they have three daughters and a son. His oldest daughter, Rachel, lives with her husband Kyle on Whidbey Island in Washington. She is a Jr. High math teacher. Rebecca teaches 5th grade in Huntington, IN. His son Joshua attends Valparaiso University as a Financing and Accounting major. Their youngest daughter, Anna, attends Indiana University as an English major.
David enjoys spending time with his family, reading about the God we serve, helping people connect deeper with God's amazing love, and playing music. His deepest desire is that others discover the love, joy, hope, and peace of God through Jesus.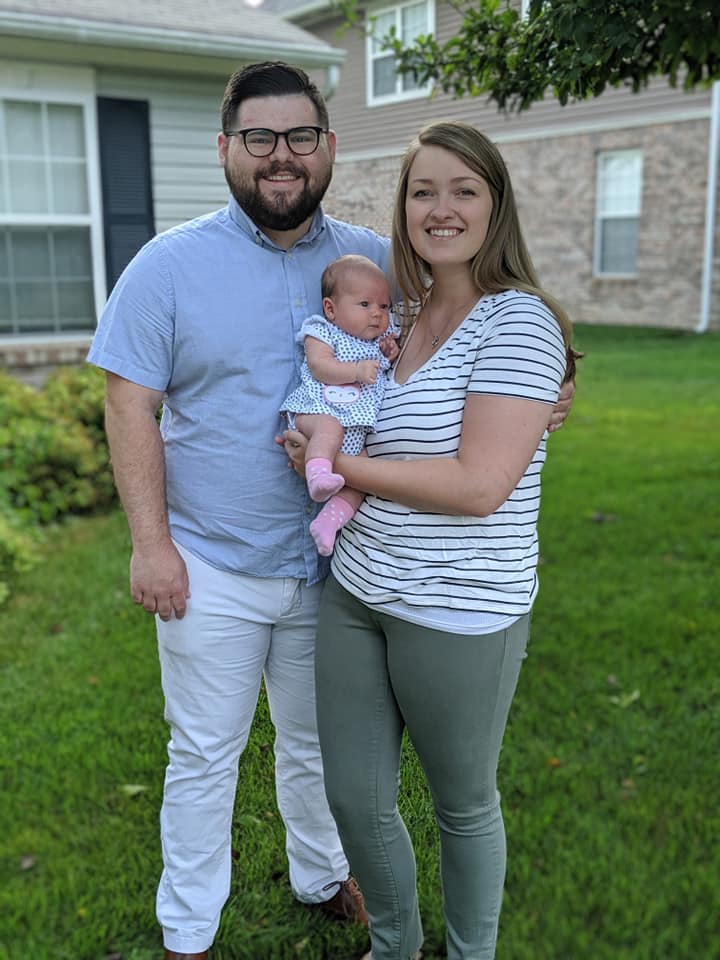 Aaron Taylor
Associate Pastor
(812)-332-4191
While being a native of Franklin, Indiana, Aaron has been serving in campus and local church ministry in Indianapolis, Indiana for the past five years. He received his bachelor's degree in religion (with concentrations in youth ministry, theology, and Ancient Greek) from the University of Indianapolis, and is currently pursuing his Master's of Divinity from United Theological Seminary in Dayton, Ohio.
Aaron has been married to his college sweetheart, Emily, for three wonderful years. She serves as an elementary special education teacher. The two live with their daughter, Addie, and their dog, Pinto.
Aaron loves to spend time with his family, watch sports, play games, read widely, and make things with his hands. His mission is to join God in His dream of making all things new by equipping everyday people for the work of ministry.

KAROL ANDERSON
Admin. Assistant
(812) 332-4191
My name is Karol Anderson. I grew up in Indianapolis and am the daughter of a pastor. My husband and I moved to Bloomington in 2012 to seek a smaller community.
We love outdoor activities and Bloomington is the perfect place for us. Away from the office, you will most likely find me walking the B-line trail, hiking the numerous trails in the area or tending to our small vegetable garden.
I am thrilled to be a part of the St. Paul UMC family and look forward to our time together.

JOHN WHITCOMB
Worship Leader
Born in a small farming community in southern Indiana to an aspiring musician turned navigator in WW2 and a runway model. I have four older sisters who kept my ears open with their own distinct choices of music from the early sixties to the early and mid seventies.
I played in several bands thru high school and after high school found the 'Honky Tonk' circuit. I played that circuit for five years six nights a week before I wound up at GIT in Hollywood where I graduated and was invited to play on the student album. I then found myself in Nashville,TN working in a corporate cover band entertaining the good people of Tennessee for close to three years.An invitation to sail around the world with my Father in his sailboat found leaving Nashville if only for a short period.Chronic sea sickness prevented me from finishing the trip round the world with my Dad so I hit dry land and found my way back to Indiana this time a job in a pit band playing Broadway musicals. This really opened my ear to great song writing in the 'American Songbook' manner.
A radical encounter with Jesus then found me wanting to glorify His name with music. I have been the music pastor at churches here in southern Indiana. I married and gained three wonderful kids as well as a beautiful wife and I can't imagine my life with out them.

SAM RITTER
Choral Director
Sam Ritter is a doctoral student and associate instructor at the Jacobs School of Music at Indiana University. His major field of study is in choral conducting with minors in composition and music theory. His principal professors of composition have been Daniel Musselman, Sven-David Sandström and P.Q. Phan. His current mentors in conducting are Betsy Burleigh, Walter Huff, and Dominick DiOrio.
​Sam has recently had pieces performed in Canterbury, UK, and is currently composing a large work for chorus and orchestra to fill the dissertation requirement at IU. He is published by Santa Barbara Music Publishing.
At Indiana University, he has been the associate conductor for the premier contemporary vocal ensemble, NOTUS, in addition to the associate chorus master for The Music Man. In the 2017-2018 season, he will take part in conducting and preparing Penderecki's St. Luke Passion, Bernstein's West Side Story, and Jake Heggie's It's a Wonderful Life. Currently, he is the Music Director of the New Voices Opera. In his free time, you'll find him biking around Bloomington and playing Ultimate Frisbee.​

IAN HALL
Media Coordinator
(812) 332-4191
A native of England, Ian's first exposure to Indiana was through a pastoral exchange program in 1995. Ian's father exchanged pulpits with Pastor Aaron Wheaton, and the Hall family spent the summer at Mt. Pleasant United Methodist Church in Terre Haute. Ian returned to Indiana in 1997 to volunteer as a counselor at the Camp Mone'to and Retreat Center near Nashville in Brown County. Throughout his college years, Ian returned to Mone'to each summer to fulfill the role of program coordinator.
Ian is a graduate of Sheffield Hallam University in South Yorkshire, England, where he earned a bachelor's degree in Business Management and Outdoor Recreation Management. Ian moved to Indiana in the winter of 2001 to serve as the marketing director of the former South Indiana Conference Outdoor Ministries program, where in 2005 he was named as the new director of the conference's Outdoor Ministries. He served in that capacity until the creation of a new Indiana Conference. Ian currently serves on staff at the Indiana Conference where he fulfills the role of Associate Director of Financial Services.


Akira Kaku
Pianist
Akira is a doctoral student at Indiana University



Jack Kirby
Sexton


Gilda